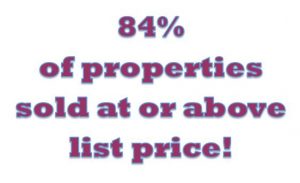 Hot off the press, here are some highlights of the May housing market:
The median sales price for a single family home in Seattle in May was $802,000. For condos it was $529,500. Combined, we saw a 17.3% increase in the median sales price from May 2017.
Inventory improved in May and for the first time in a long time, we have more than 1 months supply of housing (1.1 at the end of May). There's still a long way to go to get this to the 4-6 months necessary for a balanced market.
The most impressive statistic for May is this one – 84% of properties sold at or above list price! (26% sold at list, 58% above.) That tells us that it is likely that 6 out of 10 listings received multiple offers.
If you're a seller, it's the time to sell. If inventory continues to increase, we may start seeing smaller increases in sales prices and less competition. If you're a buyer,  let's get you into a home.
Give me a call/text at 206-790-0081 or email [email protected] and let's talk about your real estate needs.