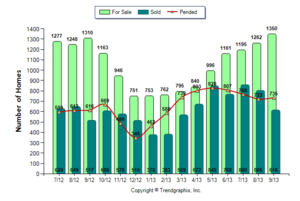 September Activity for the City of Seattle
September tested the housing market's resilience around Western Washington with fluctuating mortgage rates, record-setting rains, and persistent inventory shortages in some areas. By month's end, however, both pending and closed sales outgained the same period a year ago, according to the latest figures from Northwest Multiple Listing Service.
Prices also increased compared to 12 months ago, but fell slightly from the previous month. Year-to-date figures through nine months show prices for homes and condominiums that have sold in the 21 counties served by the MLS are up 12 percent from a year ago.
Northwest MLS director John Deely said the Seattle market shows no signs of slowing down and house-hunters seem undaunted by soggy weather. "Buyers continue to flood open houses and multiple offers rain down on competitively priced properties," he commented.
Deely, the principal managing broker at Coldwell Banker Bain in Seattle, said one newly listed home had 25 potential buyers show up at a midweek brokers open house to get a first glimpse at it. "Multiple offers are still prevalent," he said, citing an example of one appropriately priced listing receiving 11 offers, and ultimately drew a bid of more than 20 percent above list price. Other new listings in Seattle are experiencing similar activity, according to Deely. "Buyers with all cash have decreased and financed offers now outpace cash offers," he stated. (Note to reader – The listing that John Deely is referring to is my listing on Queen Anne. John is my Principal Managing Broker.)
MLS figures show mixed activity across its service area:
September's volume of new listings increased nearly 17 percent compared to a year ago, pushing the total number of active listings slightly ahead of 12 months ago (up 2.1 percent). However, of the 21 counties the MLS serves, 11 reported having fewer listings than a year ago.
Pending sales (mutually accepted offers) rose 4.6 percent area-wide; 14 counties had double-digit gains, while three counties reported declines.
Closed sales for September increased 21.2 percent year-over-year, rising from 5,536 to 6,711.
While selling prices area-wide are up 8.7 percent from a year ago, prices were below year-ago figures in five counties. Conversely, seven counties notched double-digit gains. The area-wide median price for last month's closed sales was $278,000, up 8.7 percent from the year-ago figure of $255,745, but $5,000 less (down about 1.8 percent) from August.
Prices on closed sales of single family homes (excluding condos) rose 8.2 percent, while condo prices surged 12.3 percent.
"We are currently experiencing a mini power surge of sales activity, the third such event this year," said J. Lennox Scott, chairman and CEO of John L. Scott Real Estate. He attributes the bursts to interest rates. "With interest rates suddenly coming off their peak for the year, we're having another surge of activity, which is keeping the inventory at the shortage level in both King and Snohomish counties."
MLS figures show King County has less than two months of supply (1.95 months). Snohomish County is slightly better at 2.32 months. System-wide, there is 3.32 months of supply, well below the level of 4-to-6-months that is generally accepted as an indication of a balanced market.
In Kitsap County, where there is a more balanced market (4.3 months of supply, up from 3.4 months in August), the pace of sales and price appreciation are both moderating. Well-priced properties are still drawing considerable activity.
"As is typical at this time of year, September's pace slows a bit compared to August as families focus on back to school and all the activities that go along with that," observed Frank Wilson, branch managing broker at John L. Scott in Poulsbo.
"We continue to see buyers who are negotiating against several other buyers on a house they like," said Wilson, a member of the Northwest MLS board of directors. He noted well priced homes are drawing offers in the first few weeks of being listed, while listings that are getting no showings most likely mean they're at least 5 percent high on pricing. "Homes that are priced correctly will receive showings and offers," he emphasized.
Northwest MLS director George Moorhead, the branch manager at Bentley Properties in Bothell, said market activity "waned just a bit" towards the end of August and during September, a pattern he said is normal with students going back to school and last-minute vacations. He expects interest rates will climb to 5 percent by summer 2014, and says the big message is "If you want to capitalize on the current lower interest rates, don't delay any longer."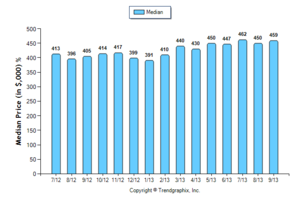 City of Seattle, Median Home Prices