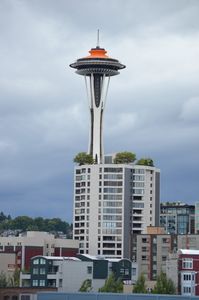 It's spring, traditionally the busiest time for residential real estate transactions. This year has been sort of an anomaly, as the year started off with tons of buyers but very few sellers. Inventory is definitely improving, and buyers are everywhere. However, buyers still seriously outnumber sellers, creating a seller's market.
I spent yesterday afternoon helping out a colleague by taking clients of hers to see some homes. This family has been looking for a North Seattle home in the $500,000 range for sometime. They have submitted several offers, in multiple offer situations, but have not come out successful. Both husband and wife grew up in Bellevue, but much prefer to purchase a Seattle home. He works downtown.
Due to their frustration and the need to buy before their lease runs out on their rental, yesterday we moved to homes on the Eastside. We toured 4 homes in Issaquah and Bellevue. Not quite the area they're looking for, but they realize they need to expand their search. Of the 4 homes we saw – 2 had others checking them out too and one had a pre-inspection going on.
In touring these homes, they realized they really want to be in Seattle, but they're willing to go east if necessary. They recently submitted an offer on a For Sale by Owner in Bryant (Seattle), and are waiting anxiously with their fingers crossed. If they don't get the Bryant home, there's a Loyal Heights (Seattle) one they plan to submit an offer on.
In addition to considering the Eastside, they're reconsidering their needs. They have 2 daughters, so they want a 3 bedroom; they're realizing they may have to settle for a 2 bedroom where the girls share a room. Financially they're pre-approved to the point they can go up to a higher price but they really don't want to take out that much of a mortgage; well, if they have to, maybe they will.
Moral of the Story – There are a few lessons to be learned from this story. 1) There are more buyers than sellers and it's very possible you won't get the home you want. 2) Be willing to expand your list of needs. This includes geographically, requirements of the home, and price. 3) Use a Realtor who understands your market, is experienced in multiple offers, and who is available to you most any time. The right home may show up on a Sunday at 8pm.
I'd love to have your thoughts on the current market. Comment here are feel free to email or call me.