In Seattle and King County, we saw a slight increase in inventory over March of last year for single family homes, 3.1% in King County and 6.6% in Seattle. For condos, the number for sale in King County decreased 4.5% but increased 21% in Seattle. The Seattle increase may be because of pre-sales at buildings under construction.
Snohomish County saw a significant decrease in the number of single family homes for sale, with an 11.9% decrease. Condos for sale stayed at the same level as 2017.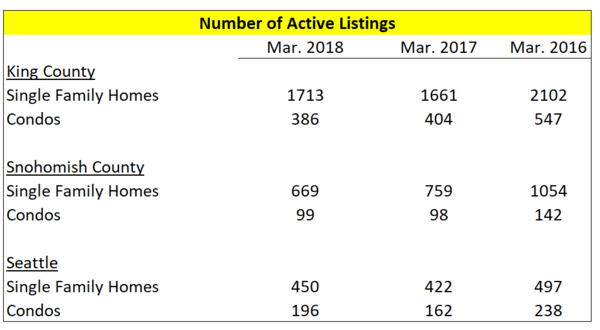 Lack of inventory is still driving the region's housing market. The chart below shows 3 year inventory levels for King (green) and Snohomish (orange) Counties as well as for Seattle. The biggest decrease has been in Snohomish County as King County buyers are being priced out their market.
Please give me a call/text at (206) 790-0081 or email to learn more or discuss your options for buying or selling a property.