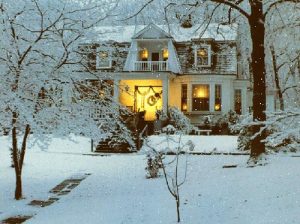 If you've always thought that December is a bad time to buy or sell real estate, you might be surprised! While most people are crowding the malls looking for the perfect Christmas gift, the smartest buyers know that now is one of the best times to find their dream home and the smartest sellers are taking advantage of less competition in the market.
If you are a buyer looking for something specific or with a long list of needs you should continue your search during the holidays. Real estate doesn't stop just because there are wreaths on the front door as there are constantly new listings coming on the market. Savvy buyers continue their search because you never know when that "just right" home becomes available. With fewer competing buyers out there making offers the chances of landing the home of their dreams increases dramatically.
The number of available listings on the market traditionally falls in December. Sellers who have been actively listed usually request that their homes come off the market so that they don't have to show them during the holidays as schedules can be problematic during this time. Also, many agents are winding down their business in December and are not adding listing to their books. Many agents even advise against listing during this time, based on false assumptions about the holiday season.
However, these two factors allow for a fantastic opportunity to dominate the market during December. As competition diminishes for both buyers and sellers, you end up one of the chief suppliers, or consumers, of the available product.
What a perfect marriage of smart buyers and smart sellers!
December is not just an incredible time to buy and sell real estate, but also to negotiate. Sellers who have been sitting on the market for months may be more willing to listen to offers they may have passed over during the summer and fall. There is something about having affairs settled by the new year that can be very attractive and can encourage sellers to put pen to paper.
December is also a great month for getting one's tax situation settled. Some people must sell by December 31 due to financial reasons. These people can be willing to do amazing things with the price of their home during December if you are able to close prior to December 31. If you're a buyer, you should be out looking as soon as possible and offering a quick close.
Mortgage and title companies may even be more willing to jump through hoops to get your deal closed to bring up their numbers for the month and even the year!
If you're serious and
smart
about buying or selling real estate, can be loaded with opportunities. For statistical data on homes that sold in your neighborhood last December or that are available now, just give me a call at 206-790-0081 or send an email to
[email protected]
.