Inventory (or lack of) is still the story of the greater Seattle real estate market. We did see increases in some areas but not nearly enough to address the demand. In King County the number of single family homes coming on the market increased 6.6% over February 2017 but is still down 7% from 2016; condo inventory increased 13.2% from 2017 but is down 16.9% from 2016.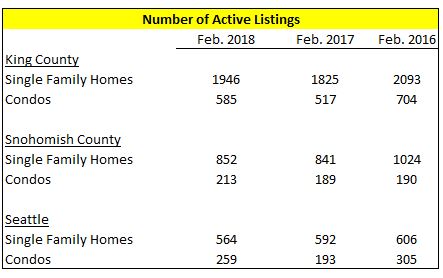 Seattle continued to see a decrease in inventory for single family homes compared to the two past years – down 4.7% from 2017 and 6.9% from 2016. Condos on the other hand increased significantly, a 34.2% increase from 2017 although from 2016 the number was down 15.1%. The increase in condos may be from pre-sales of a few new buildings that are in the development stages.
Moving on to Snohomish County, the number of single family homes showed an increase of 1.3% from 2017 but that is still a 16.8% decrease from February 2016. New condo listings also increased 12.7% from 2017 and also showed a 12.1% increase from 2016.
Are you thinking of selling your home this year? We're moving into the spring real estate frenzy so let's talk now about your plans. Give me a call/text at 206-790-0081 or email at [email protected].