I met Steven and Lauren back in January at an open house. They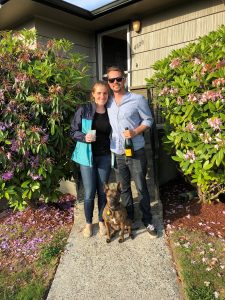 were looking to buy their first home. Steven is an architect, so they wanted to buy a home that needed some work, to create their dream spaces.
By the end of March Steven and Lauren had their financing lined up. Not only were they pre-approved, their lender had put them through underwriting. With 20% down and strong financing, they were the ideal buyer.
But we're in a competitive market, so getting a house is more than just having all your ducks in a row.
Their first offer was on a beautiful Columbia City home in need of some updates. The sellers received 8 offers and it sold for 25% above list price and beyond Steven and Lauren's maximum budget. Their 2nd offer was on an incredible mid-century modern in Beacon Hill that was in need of a studs down remodel; Steven and Lauren weren't willing to pay list price because of the amount of work needed, and they didn't get that home either.
Next up was a view property in Seward Park, also in need of extensive remodeling. That one sold for $100,000 over list price. They moved on to a home near Alki Beach that also needed extensive work; that one went had 27 offers and went for 33% above list price.
As you can imagine Steven and Lauren were becoming pretty frustrated at this point. All they wanted was a place to call home. Their first anniversary was a little over a week away and they decided that for a present for themselves, they were going to get a house. They toured another 25 homes or so, and found 5 they really liked. They ranked them by offer review dates and decided to do an offer a day until they got one. Offer #5, also in West Seattle, wasn't accepted either.
It's now May 21st and their anniversary is just days away. Offer #6 is submitted, and yes, they got a house! Persistence paid off. They took some risks, waiving both their financing and inspection contingencies, and that made a difference. That, and they stretched to their maximum. The sale closed last week and they got their  anniversary present and dream house.
In 2018 I'm donating $500 to the non-profit of the client's choice in honor of their closed transaction. Steven and Lauren chose for their $500 to go to Habitat for Humanity Seattle/King County. Their purchase of a new home will help another family get into their own home.
Congratulations Steven and Lauren (and Roxy, their dog), you're going to love living in West Seattle near the Junction.