The story of the Seattle real estate market in 2017 continued similar to the past few years. Low inventory drove our market, with the number of new listings down from 2016 and prices up significantly. While the median sales price for a single family home citywide increased 13.7% to $705,000, in many neighborhoods that increase was even higher. For the 23 counties in the MLS area overall, inventory shrunk 19% from the end of 2016 to the end of 2017. That's the smallest selection for any month in the past decade.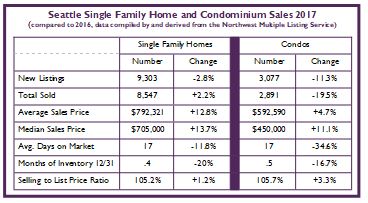 December is traditionally a slower month, but that wasn't the case this year. While the inventory was low, the number of buyers seemed to be high, with multiple offers the norm (I heard a story of 28 offers on a Queen Anne listing as well as multiple offers even during the week between Christmas and New Year's) and packed open houses (100+ visitors at times). At year end, there were only 256 single family homes and 95 condos for sale in Seattle, a decrease of approximately 30% from 2016.
Until we see an increase in inventory, we can expect the market to be strong. We need property owners to list their homes at higher rates as well as an increase in new construction. See my predictions on the next page for more details.
Please give me a call/text at (206) 790-0081 or email [email protected] if you have any questions or would like further information on the market or your specific area.